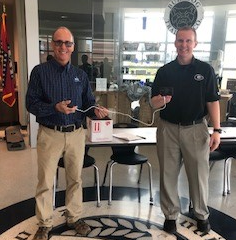 Arkansas Oklahoma Gas Donates WiFi Hotpots to Area Students
Committed to ensuring students have the opportunities and tools they need to succeed academically.
FORT SMITH, AR - Arkansas Oklahoma Gas Corporation (AOG) is partnering with local school districts to provide Internet access to students in need. The company has repurposed thirty-nine Wi-Fi hotspots that allow remote Internet access from smart phones, tablets or laptops and has provided them to students who did not have broadband access in their homes.
"At AOG, we understand that during this extraordinary time it is vital for areastudents to stay connected and continue their education from a safe homesetting while avoiding the COVID-19 pandemic," said Jeremy Schreckhise, Vice President of Information Technology. "Not all students have the luxury of access tothe Internet in their homes. It is our privilege to help connect them to their teachers and instruction."
The company is partnering with the Fort Smith School District as well as the Greenwood School District. In addition to providing the hotspots, AOG partnered with Verizon to cover the costs of data usage associated with the hotspots so that these students and their families don't incur additional costs.
"At AOG we recognize that we are only as strong as the communities we serve," said Schreckhise. "Community engagement and giving is critical to the future development of the Fort Smith area and we are committed to ensuring students have the resources they need to succeed."